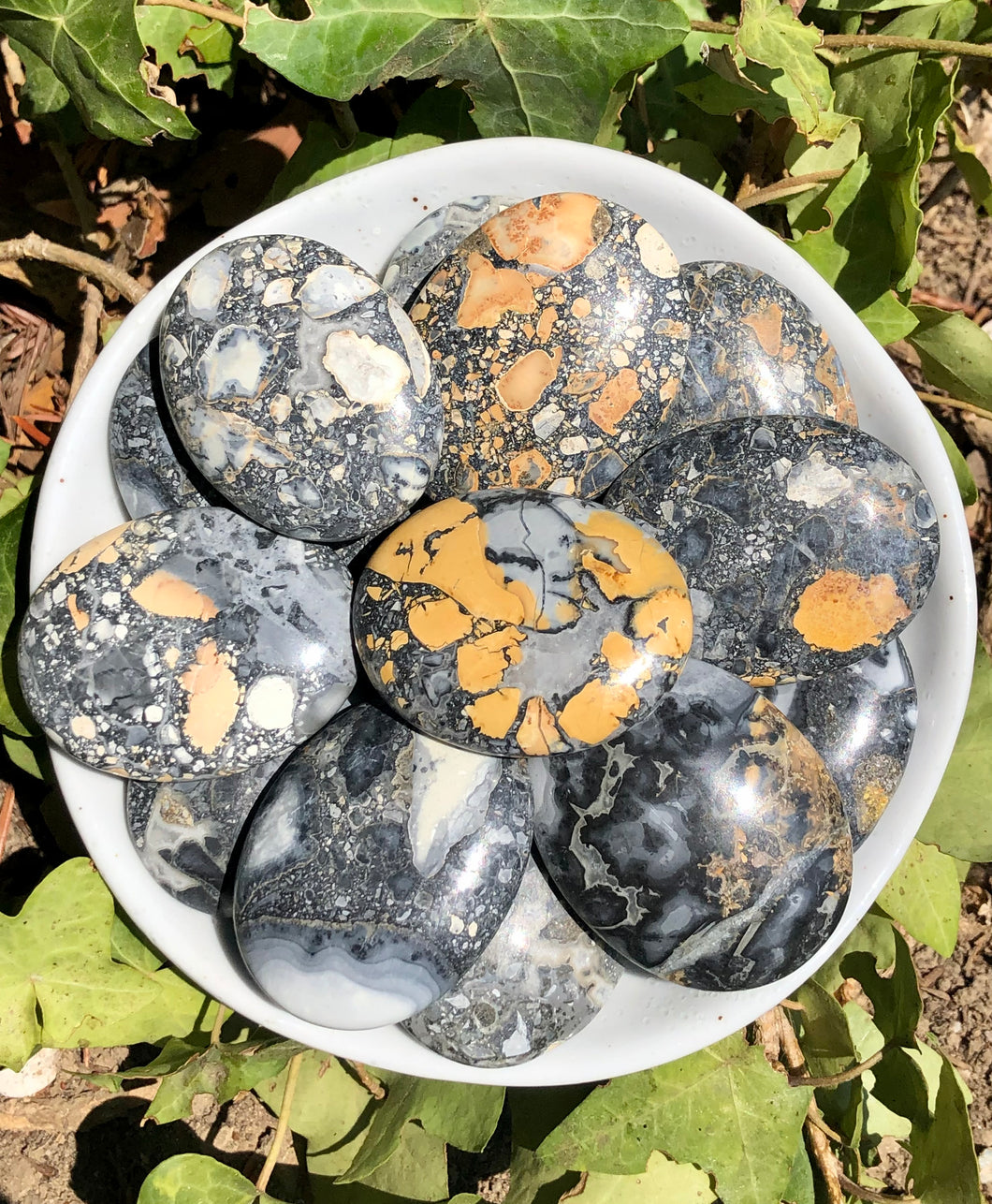 Maligano Jasper Palmstones
Maligano jasper is a variety of brecciated jasper named after a small village in Sulawesi, Indonesia, and it was only discovered about a decade ago. This gem is famed for its mesmerizing dendritic patterns of yellow, orange, gray, and white – each piece looks like a work of art and holds unique beauty and magic.

Maligano jasper is special because it facilitates rebirth while grounding your spirit gently into the earth. This gem keeps you safe as you navigate life transitions and helps you release anything out of alignment with your life purpose. It encourages harmony of body, mind, and spirit, helping you feel more balanced, aligned, and in tune with your inner knowing. Whether you're undergoing life changes or are simply looking for a talisman of stability, wisdom, and support, this offering is for you.
As Maligano jasper is a variety of brecciated jasper – a stone of healing, grounding, and motivation. It offers comfort and peace and, when rubbed, can help melt away stress or tension. which is perfect for this listing of a palm stone. It helps transmute negative or low vibrations and also stimulates dream recall. Maligano jasper also holds the magic of transformation and rebirth. With its intricate patterns and layers, it reveals your own complexity, showing you what layers need to be shed in order to get to the root of who you are. This stone supports the processes of self-evaluation and reflection, providing guidance and companionship as you transition into new levels of your spiritual journey.
Work with this Tumbled Maligano Jasper in meditation, carry with you  or simply place it on your altar to send its healing energy throughout your sacred space.
Listing is for one palm stone.
Special price to honor a very special loved one on the other side 💗Sharing the magic of Jasper ✨