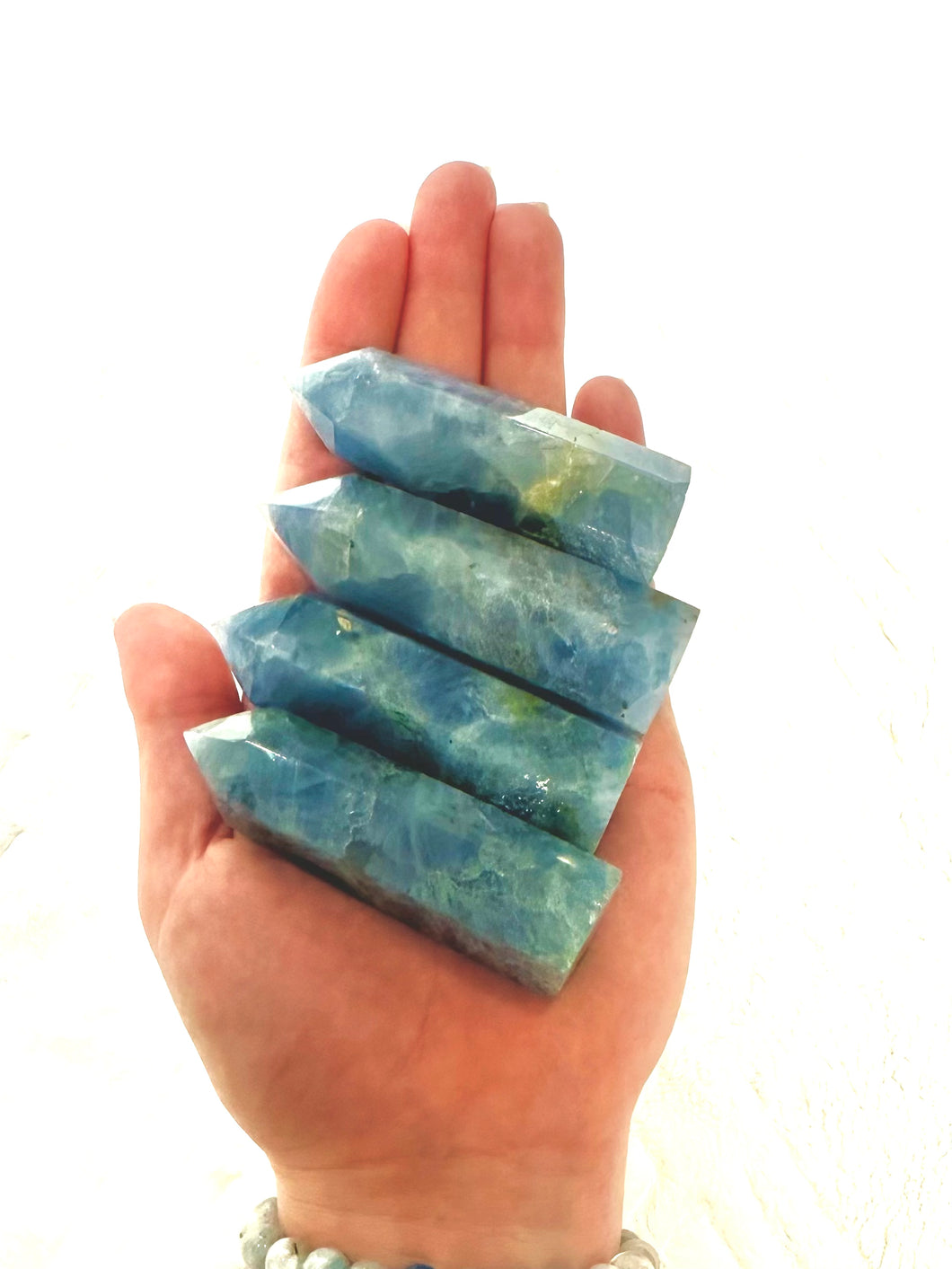 Aquamarine Towers
Regular price $14.00 Sale
Healing with Aquamarine
♥ Cleansing ♥ Meditation ♥ Serenity ♥ Peace ♥ Prophecy ♥ Inspiration ♥ Tranquility ♥ Inner power strength ♥ Soothing ♥ Calming ♥ Safe travel on water

Aquamarine is a stone of courage.  Its calming energies reduce stress and quiet the mind.  Aquamarine has an affinity with sensitive people.  It can invoke tolerance of others and overcomes judgmentalism, giving support to those overwhelmed by responsibility.  Clarifies perception, sharpens the intellect and clears confusion.  Useful for closure on all levels.  Promotes self-expression.  Soothes fears and increases sensitivity.  Sharpens intuition and opens clairvoyance.  Wonderful for meditation.  Shields the aura and aligns the chakras.  Highly protective during pregnancy, it helps to guard both mother and baby from harm.   
KEY WORDS: Self Healing, Friendship, Hope
ENERGY: Aquamarine means "Water of the Seas," beckoning those who need the power of this ever-flowing element in their lives. Infusing the calming nature of coastal seas, this crystal channels flow through you so any action is easy and intentional. It offers a drop of serenity, peace, and fluidity to anyone who has it. This soothing stone focuses energy through the throat and heart chakra, aiding in heart healing through communication. Individuals who feel emotionally disconnected, have trouble speaking their mind, or fear rejection can use Aquamarine. Especially those who are suffering from grief can begin to feel through their emotions and find peace on the other side.
Due to the nature of natural items, color and pattern will vary. 
Crystal meaning descriptions have been crafted from extensive research and personal experience. Crystals are never a substitute for traditional medical care. They should always be used in a complementary manner.
Listing is for (1) aquamarine tower, 3-4"