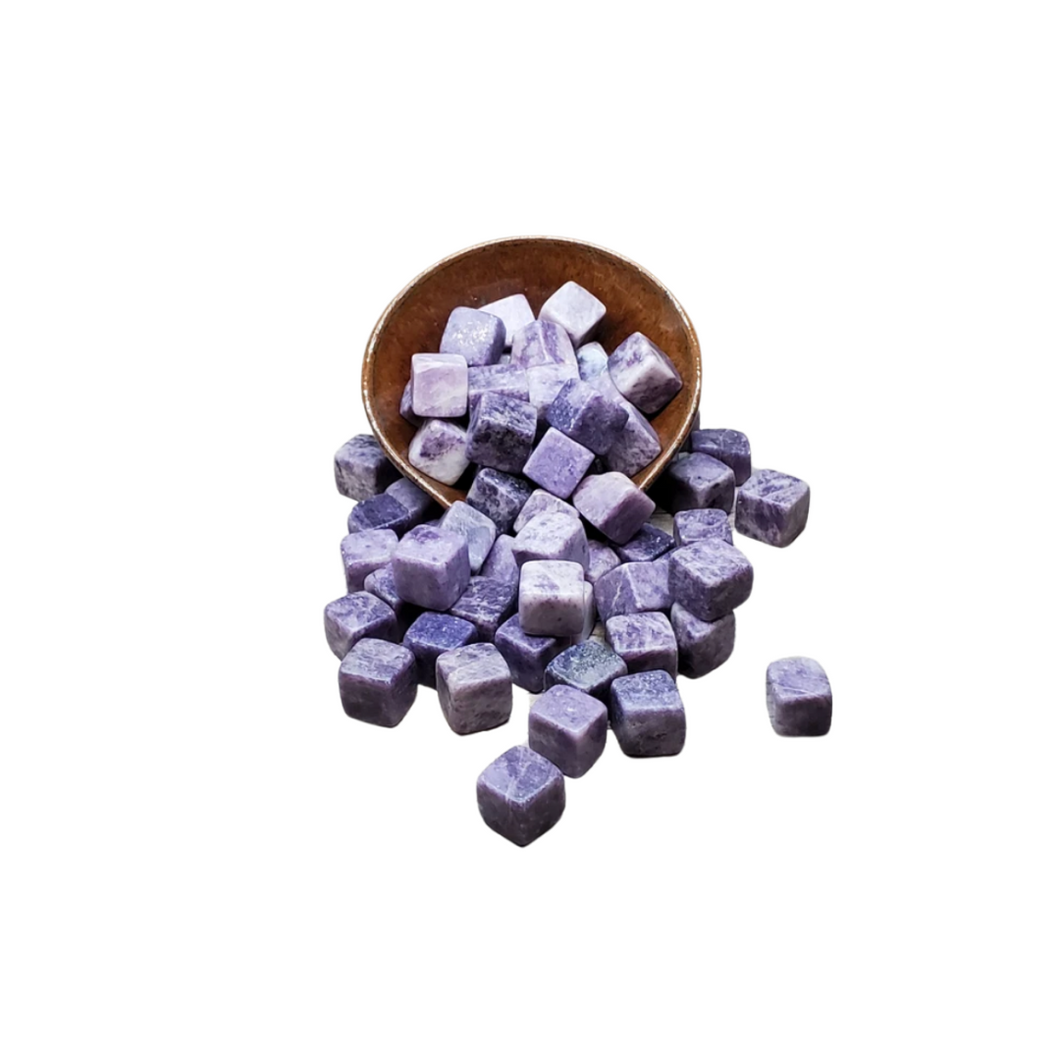 Lepidolite Cube
Lepidolite
♥ Transition ♥ Awareness ♥ Emotional Balance ♥ Meditation ♥ Prayer ♥ Goodness

A "stone of transition", Lepidolite assists in the release and reorganisation of old behavioural and psychological patterns, gently inducing change.  It brings deep emotional healing, soothing and reducing stress and depression.  Lepidolite dissipates negativity and insists on being used for the highest good.  It activates the throat, heart, third eye chakras and the intellect.  It opens the crown chakra, clearing blockages throughout the subtle bodies. 
The Stone of Transition, The Peace Stone, the Grandmother Stone – Lepidolite comes with a handful of names, all that speaks to its sense of sweet nurturing and ability to stabilize the soul. Lepidolite consoles those who are grieving, not only grieving the loss of a loved one, but those grieving through change or shifts in life and relationships. 
Lepidolite is an excellent stone at clearing out blockages and nudging you towards a place where you can connect to your higher self. It's an essential amulet to have at hand during times of challenging change or when working to overcome difficult times or experiences.


Lepidolite has inclusions of lithium, which help soothe and calm those with anxiety or fears. It assists with sleep issues and helps one to find peace. Lepidolite aids in overcoming any kind of emotional or mental dependency, supporting in the release of addictions and complaints of all kinds. It encourages independence and self love and trust. 
Lepidolite combines its power of objectivity with direction and unimpeded communication, focusing on what is important and making it an excellent stone for business pursuits.
Listing is for one lepidolite cube, 0.50"-0.75".