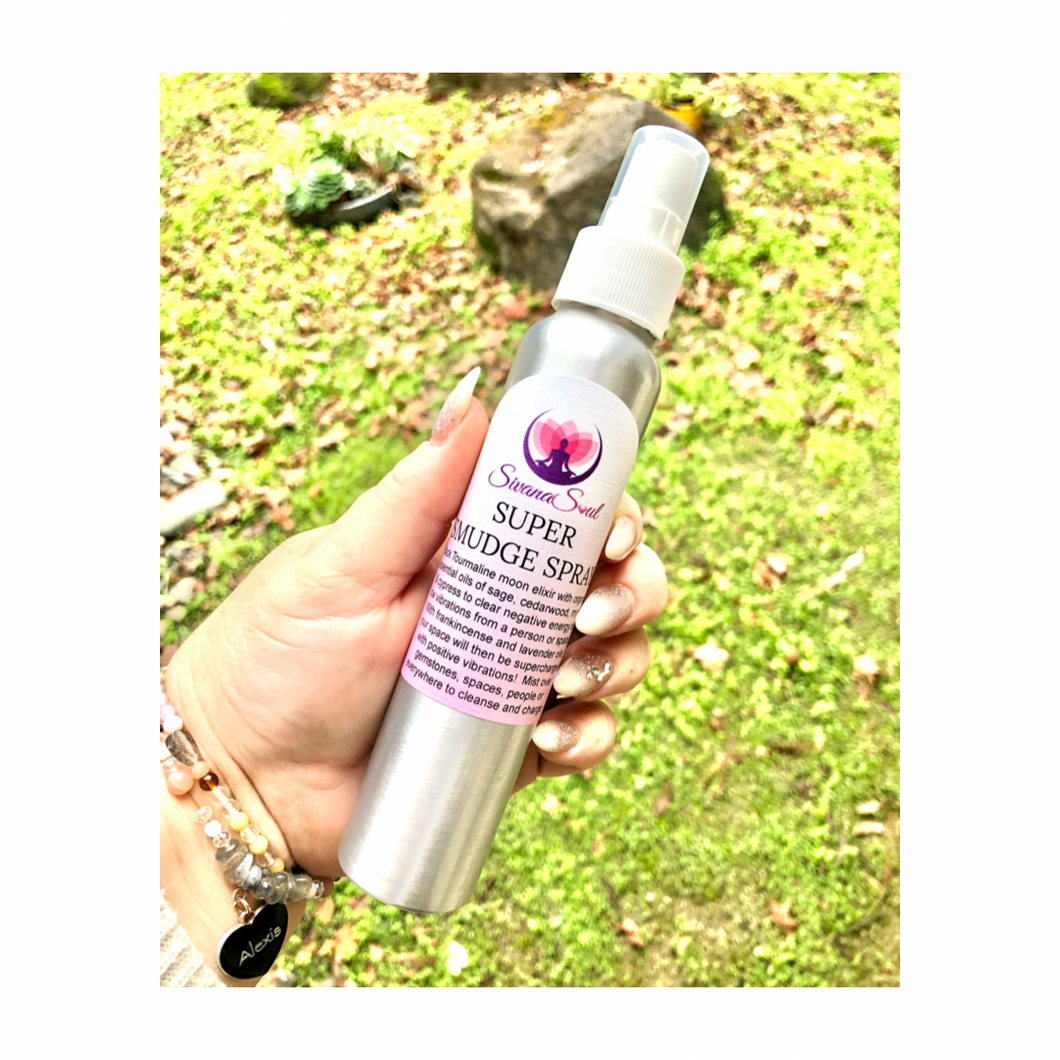 Super Smudge Spray
Regular price $21.00 $15.00 Sale
Our Super Smudge Spray is perfect for those of you who would like to rid yourself of all the negativity and baggage that can hinder you from clear thinking and and positive energy. Emotions can play a significant role in our daily lives and our Super Smudge Spray can clear away all the gloomy and unaffirmative thoughts and feelings we can experience throughout our daily lives. Super Smudge Spray is the ideal blend to use after a stressful day when you have been confronted with poor communication, negative interactions or when you have found yourself surrounded by people who zap your energy. Yes, I am talking about those individuals who are often referred to as Energy Vampires! Our Super Smudge Spray is made with sacred oils to create a protective quality which can shield you from others undesirable intentions or energies. 
The beauty to our Super Smudge Spray is the fact that it is so versatile. You can use it on the body or you can use it as a room spray. You can spray it in any space you feel needs a cleansing such as your work-space, your altar, your own sacred space or the throughout your home. Spray some on your hands when meeting new people or spray some on the crown of your head to help clear your thinking. Spray the front of your door down. Spray a bit along your third eye. Mist yourself with a bit after interacting with negative people or after you find yourself in an uncomfortable situation. Mist some along the back of your neck when feeling overwhelmed.  Spray some on prior to any type of spiritual or intuitive work.
This is the perfect alternative for Smudging with a White Sage bundle, for those who prefer not to burn or use smoke to cleanse. 
Another fantastic method is to simply spray yourself down after performing a cleansing bath. A cleansing bath doesn't have to be fancy. Simply add some Sea Salt or Epsom Salts to your bath. You may want to get a little bath water on the crown of your head. When you finish bathing, spray down your body with some Super Smudge Spray.
Super Smudge Spray is made with 100% organic essential oils of White Sage, Clary Sage, Lavender, Rose, and Frankincense in a 6 oz steel bottle.
Bonus Tip- when your spray is used up, simply refill up to half of your bottle with distilled water, shake and continue to use! Essential oils tend to stick to the container, therefore you can get a little more use from your purchase! Who doesn't LOVE that?!?