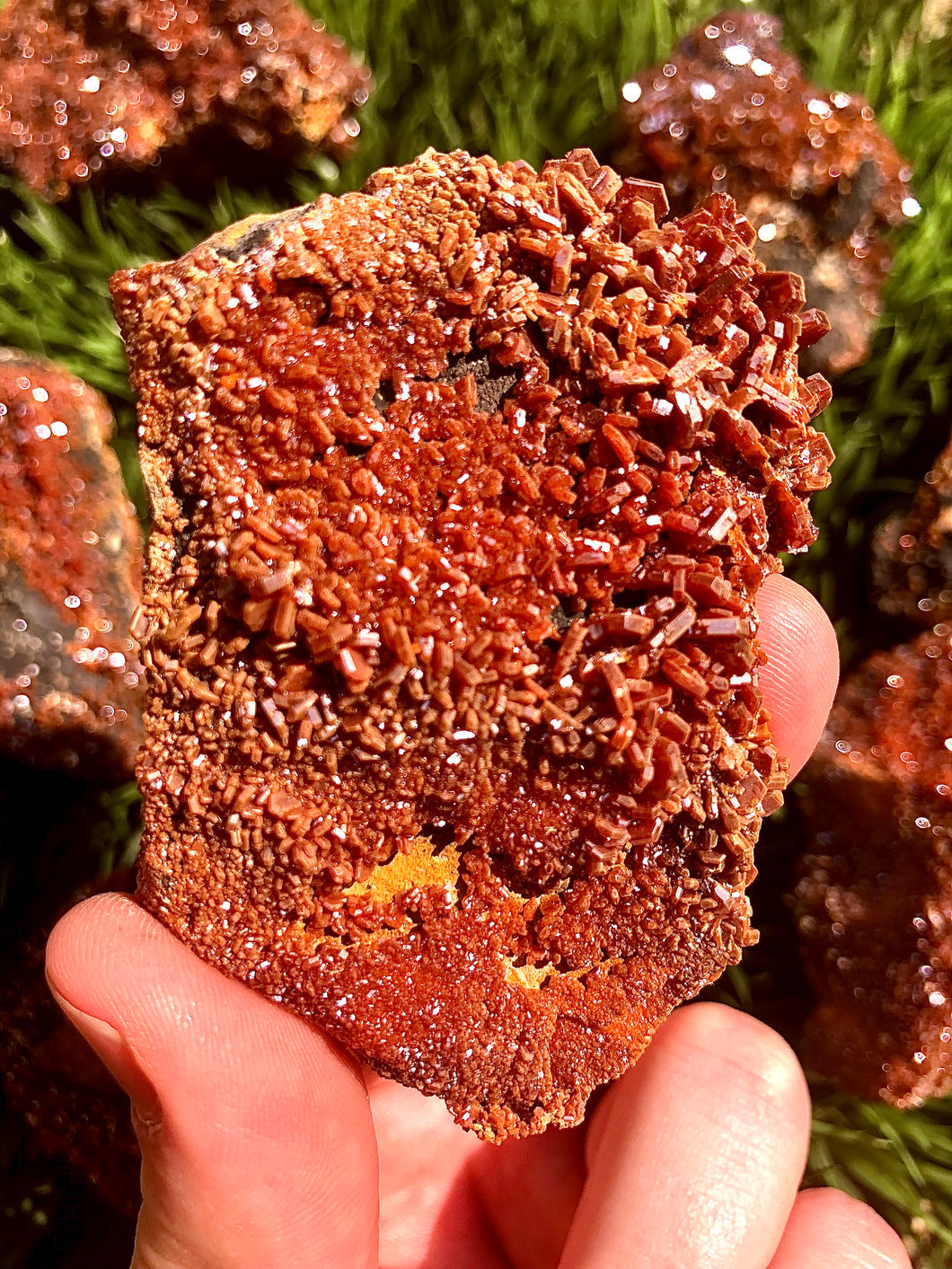 Vanadinite
Regular price $27.00 $19.00 Sale


Vanadinite encourages creativity, playfulness and curiosity. It can help you feel adventurous, willing to take risks and break free of the expectations or strictures of others.

It encourages you to express your ideas and desires more easily. It can remove stagnation and institute a free flow of both energy and ideas. 
​
Vanadinite fills the gap that is in everyone between the intellect and thought. To think something doesn't necessarily mean that is a good idea. Vanadinite helps in defining and pursuing goals. It has the ability to curb overspending tenancies. If placed in the prosperity corner of the house (the far left hand corner of a room, house or land) you will be able to keep what you have and invite more to you.
 Vanadinite is used for the disintegration of emotional states that have been firmly established in the solar plexus and base chakras. Instead of total disintegration, it destabilises the negativity associated with challenging memories or experiences. This stone therefore helps you reintegrate the lessons captured from the experience, making you a much more powerful person because of it.
Vanadinite is a very stimulating and energizing crystal that aids action and boosts creativity. It is especially beneficial for writers who have a lot of work ahead of them. It stimulates mental creativity and heightens your energy levels to achieve all your goals. When you have a busy day or a large workload ahead of you, Vanadinite will prove to be your crystal ally. It is extremely beneficial for anyone who has to go the extra mile in order to achieve their goals or see their vision come to life. Providing us with energy as we move through our creative or work endeavors, Vanadanite helps us to be more productive, focused, and creative.
Vanadinite vibrates with the Sacral and Solar Plexus Chakra. It helps balance and revitalize sexual energy. It also encourages us to express our ideas and desires more easily. Its energy is extremely useful for boosting creativity, and allowing energy and ideas to flow through the mind and body.
Vanadinite connects the mind with the lower Chakras, which provides motivation, clear thoughts, organization, and determination for achieving goals.
Vanadinite is strongly associated with the element of fire, offering a boost of power and strength when tasks become difficult or fatigue begins to take over. Sleep with a piece of Vanadinite next to your bed to awake energized and ready to conquer daily tasks. This gem fills the aura with creative energies to aid in effective self-expression.
Color, shape, size varies by specimen. All Vanadinite in this collection is in natural form.